Company Profile
Our Team
Taking over as WIG's Managing Director in 2014, John Sexton has a long history with the Company having run their Design Office for over 25 years. His wealth of knowledge gained in the U.K. and overseas over the last 40 years in the industry of Structural Steelwork manufacture, provides the expertise required for managing projects of varying complexities across many sectors.
Co-Director, Nicky Sexton is our Office Manager who oversees all aspects of the day to day running of the business. Nicky is also in charge of our Human Resources, where WIG utilise the services of NatWest Mentor as our consultant.
Our Project Coordinator, Pete Neal has over 35 years' service and experience with WIG. Pete is our qualified Appointed Person for Lifting Operations, giving us the ability to safely plan all on site installations using cranes and other types of lifting equipment. Pete also produces project specific RAMS which combined with any lift sequencing required, provides a safe working environment for all our onsite activities.
Also, with 25 years' service at WIG is Bob Griffin, our Estimator. Bob works with regular, long standing and new Clients, to produce quality, comprehensive and accurate estimates of all types, whether take-off's, bills, schedules, or any format requested by the Client. Bob will provide figures for new frames, refurbishment projects, stairs, balustrading, and any type of Structural Steelwork, ensuring prices are returned to the timescale requested.
Our Design Office liaises with clients, Architects and Structural Engineers to deliver, effective and rationalized design using the latest TEKLA 3D Modelling Software. We always offer our experience to assist design teams with practical solutions to problems, enabling models to be completed on programme to full Construction status. Our drawings are available in all formats required by today's standards, with TEKLA .ifc model files being fully compatible with most design software. We also provide comprehensive sets of end connection calculations as required and can forward any form of steelwork report direct from the model.
Our in-house Responsible Welding Coordinator (R.W.C.) David Cox, independently coordinates between all departments to ensure the steelwork product delivered to the Client is in accordance Execution Class 2 (EXC2). David works closely with our qualified Welder/Fabricators to control and supervise all welding activities and ensure they are performed in accordance with our procedures. By employing an RWC, we can ensure our steel structures meet the necessary criteria of EXC2 with Technical Reviews, Route Cards, Material Test Certificates and any weld testing being confirmed prior to fabrication.
Our Finance Manager, Anne Kiernan efficiently monitors and controls our financial arrangements utilizing SAGE and industry specific software - Construction Manager. Anne maintains a great rapport with both Clients and our Suppliers, an important part of any business, ensuring that we pay, and that we are paid, on time.
For our purchasing needs, Peter Kimsey manages all procurement from fabrication materials and consumables to any other items or products required for the smooth running of our operations.
Marcus, our Foreman, manages the daily production process within the Workshop assisted by Steve and the rest of our dedicated team; Denver, Adrian, Darren and Gareth.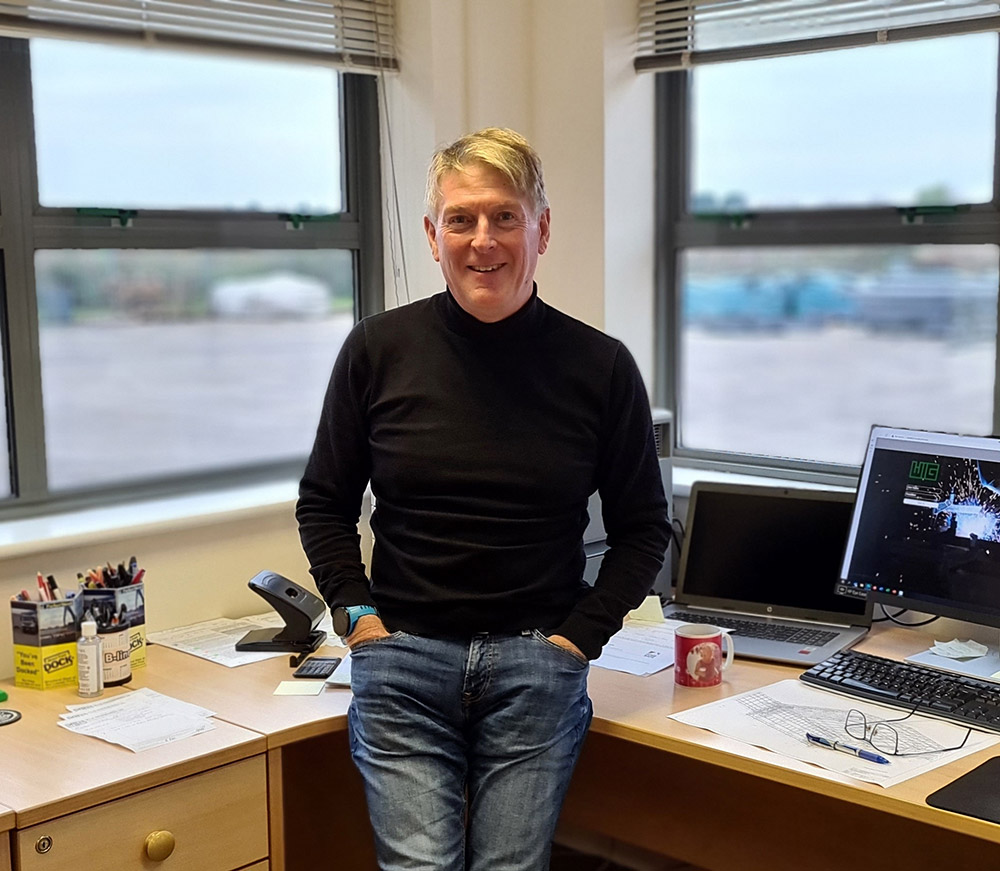 Our Managing Director - John Sexton